Overview
Valor believes that academic and social-emotional growth is enhanced by an intentionally diverse community. Valor's approach is based on research that highlights a variety of positive outcomes associated with surrounding oneself with different people. To help achieve these outcomes, Valor has made diversity a core part of its educational model, serving a student body that is racially, culturally, and socioeconomically diverse.
Diversity at Valor starts with the students and faculty. There is no racial or ethnic group with a majority population at Valor, and the racial make-up closely mirrors that of its community. Valor also works to ensure socioeconomic diversity, with about half of their students qualifying for free or reduced lunch. Diversity at Valor is not just about the makeup of a population, it is about the relationships among students. Valor's social-emotional learning component helps students develop their identities as foundations for interpersonal relationships. This builds inclusivity and allows students to engage with and learn from others that have different backgrounds and perspectives. Like the students, Valor faculty are diverse and trained to help promote diversity and inclusion with their students.
Valor also commits resources to supporting intentional diversity in a variety of additional ways. The location of the school was selected because it could be easily accessed by a large number of diverse populations. As demand for Valor has grown with its academic success, mainly among middle and upper class families, Valor has focused its outreach on populations with lower socioeconomic status. Valor created a variety of opportunities for families to learn more about the school, including information sessions, tours, and a variety of other programs. Valor prioritizes school-provided transportation for those students who can not make it on their own, spending approximately 5% of their annual budget on transportation. To maintain their diversity, Valor is highly intentional about their diversity goals and how they choose to spend their time and money to meet those goals.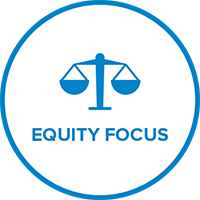 Equity Focus
Valor's focus on diversity and inclusion helps ensure they are providing equitable access to a high quality education for all members of their community.