Context
Locust Grove recently provided a Chromebook for every student in the middle school as part of Henry County's larger 1:1 initiative. The 1:1 device initiative aligns with one of Henry County's five pillars of personalized learning: the technology-enabled core tenet. In the 2017-18 school year, the district rolled out its 1:1 initiative, funded through a local option sales tax. The district opted to distribute devices to all 50 schools over the course of three months to create equitable access to technology across the district. (For additional context, Locust Grove was four weeks into its 1:1 initiative when TLA conducted observations to develop this resource.)
Previously, the student to device ratio was approximately 3:1, and most of Locust Grove's devices were located in its Assessment Labs. As part of Henry County's device roll-out, Locust Grove (and every other district school) worked to ensure the devices were used to meet instructional goals. Each department was required to develop a technology goal and prompted teachers to reflect on how they planned to use the devices within an instructional context. This preparation helped ensure that instruction was the focus of the 1:1 initiative, and not technology.
Early evidence demonstrated that 1:1 devices provided tremendous benefit to Locust Grove teachers and students. Students previously only had continuous access to devices during their daily Assessment Labs, and limited access in classrooms. Since every student has a Chromebook, they now have access to a larger array of learning resources throughout the school day. The additional resources have proven highly beneficial in science, for example, as they have created the opportunity for students to view and work through more simulations that would require too much time in an analog environment. Students are able to bring their laptops home, extending their learning time as they are able to access content and email teachers and peers outside of school hours (this has been especially beneficial for students who are absent from school and don't want to fall behind). The transition to more online content has also improved progress monitoring, as teachers are able to quickly and easily check work that has been submitted and provide faster feedback due to automatic grading within some programs.
Student Does
Accesses online learning resources throughout the day.
Completes assignments online.
Takes device home as needed.
Teacher Does
Plans for how devices can best support and improve student learning.
Monitors progress through online programs and data systems.
Technology Does
Enables better communication between teachers and students through email and Google classroom.
Allows for quicker and easier progress monitoring and feedback via online programs, automated assessments, and data systems.
Strategy Resources
Locust Grove 1:1 Implementation Plan
When Locust Grove Middle School rolled out its 1:1 Chromebook plan, each department brainstormed how... Learn More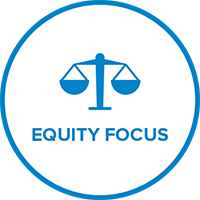 Equity Focus